Posted by
traveler
in
Business
,
Energy
,
Environment
,
General
,
Posts
,
Sustainable
,
Thriving Communities
, tags:
alternative
,
b corp
,
bcorp
,
believe
,
benefit
,
BP
,
business
,
community
,
corp
,
corporate
,
corporation
,
earth
,
economy
,
Energy
,
environment
,
financial
,
future
,
innovation
,
investment
,
leadership
,
markets
,
profit
,
resonsible
,
sustainability
,
Sustainable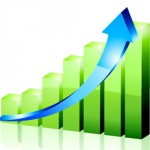 The Benefit Corporation is an answer to an evident problem. Corporations rise and fall with the quarterly earnings report. Corporate directors and executives are responsible for only one thing – a nice fat bottom line for the shareholders. It is a driving force and when safety and the environment would urge more cautious progress — as we have been witnessing with the BP Deepwater Horizon disaster — all the warnings get cast aside to bring in the mother lode.
The game takes some effort and ruthless determination, but the rules are simple: push the profits up and push the cost of doing business down — you win. Let profitability slip a few points below forecasts — you lose. The pressure is so high that you might find yourself on the street looking for a new job because of an unexpected bobble. It doesn't matter if the public or the environment or even your own employees suffer because of your decisions that fatten the company coffers. You have not broken any laws and, most of all, you have satisfied the one criteria that reflects the goals of corporate perfection.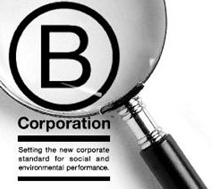 US corporate law states that it is the legal obligation of the directors and officers of a company to serve the interests of its shareholders. The only way to protect the public from avaricious corporate behavior is to change corporate law. A handful of states have adopted a new category of corporation called the Benefit Corporation. It made its debut in 2008 and over 300 companies have signed on to become a Bcorp. To instill public confidence in corporations, we will most likely see more and more states offering the B corp designation and very likely by 2011 hundreds more corporations will be opting for the alternative to get their B badge.
What does it mean to be a B Corp? ~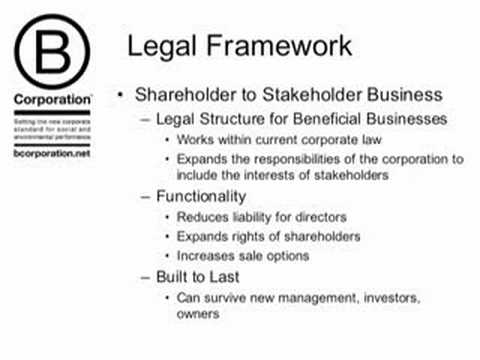 So who wants to be a B? A list of corporations that now have official B status are proudly displayed on bcorporation.net. A Benefit Corporation will be rewarded with tax incentives and it will maintain its status through its commitment to responsible and sustainable business practices, efforts to care for the environment, participation in community projects and the general safety and benefit of its employees. Its leadership is still expected to be profitable and to achieve short term goals, but more importantly, to focus on long term goals.
Innovation should result in the benefit of all. Whatever benefits a community will ultimately benefit the individuals in the community. Whatever benefits the environment will at some point benefit humanity. Whatever benefits humanity will result in sustainability.
Two prime examples of Benefit Corporations are Greyston Bakery ~
and Southern Energy Management ~