Agriculture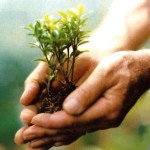 There is a seemingly irreversible trend that is sweeping the majority of the world's population into urban centers. Urban growth means, along with other problems, decreased agricultural production and a diminishing food supply, caused by a significant exodus of rural populations to cities. This is a phenomenon that is happening worldwide. The causes of rural abandonment are many – from wars to drought to the lure of urban living.
Another result of urbanization is the impact of commercial agriculture on food supplies. Larger and larger percentages of farms belong to or are under contract to mega corporations. Of course, a corporation is obligated to make profitability its primary goal. Policies that increase profitability but decrease food quality are deeply disturbing and the impact on public health means that we all must take individual responsibility for our own nutrition and health.
We cannot afford to abandon agriculture, the very industry that sustains physical life. First, as with any other force that threatens life, we must recognize that we have a global problem of soil degradation, affecting every nation on earth. Secondly, even if we find ourselves in an urban or suburban setting, we can still contribute to agricultural production, even if only for our immediate family and friends. Then, if we will promote organic agricultural practices and the bioremediation of agricultural resources, we can have hope of a sustainable agriculture and a sustainable food supply.
The subject of agriculture is so vast. So in order to confine the subject matter to our primary study of sustainable living, the question I pose to myself and to you, "What can I do to promote food production for myself and others?" This makes it more than just meaningless conversation. I will keep this in mind as we discuss agriculture.
I am reminded of one thing Jesus said, "Who are faithful and wise servants? Who are the ones the master will put in charge of giving the other servants their food supplies at the proper time? Servants are fortunate if their master comes and finds them doing their job." [Luke 12:42,43 – Contemporary English Version]
Agriculture Topics:  Agricultural Renewal ~ Composting ~ Forests ~ Mulching ~ Micronutrients ~  Backyard Garden ~  Non-Toxic Pest Control ~  Heirloom Seed ~  Local Food ~ Vertical Gardening ~ Drip Irrigation ~