Agricultural Renewal
Soil grows increasingly less productive through the continual application of chemical fertilizers, chemical pesticides and herbicides. Over the last hundred years, these chemical soil treatments have contributed to greater and greater areas of low or non productivity around the world. This, added to intensive agricultural cultivation without bioremediation practices, has left much of the earth's cultivatable land in a severely degraded state.
Dispensing with so much technical explanation and finger pointing for this catastrophic phenomenon, let's just say that entire nations have been systematically destroying the organic matter, nutrients, microbes and oxygen that the soil requires to hold moisture and to sustain a thriving agricultural enterprise. As you can see by the map above, this is happening all over the world.
The amazing thing is that the degradation can be reversed by implementing organic practices to regenerate this "dead dirt" into rich fertile soil through some surprisingly economical methods. You will need water, but only a fraction as much as you would with chemical soil treatments. Forget bags, bottles and barrels of chemicals and follow this plan.
Water ~ Without water it is a losing battle to try to recover damaged soil. You must have rain or some form of irrigation to provide enough water to revive the soil's productivity. I will discuss more about new water sources in the section on 'Water for the Nations.' Assuming there is an availability of water, each agricultural project will have its own watering plan. Water just enough to keep the soil moist. Over-watering can be as counter-productive as under-watering. The trouble is that it smothers the microbial activity and prevents oxygenation, which is vital to plant growth. You will find more detailed information on this topic in 'Drip Irrigation.'
Manure ~ Find a good source of animal waste. Animal droppings have enzymes and microbes that are wonderful for enriching your soil, and these microbes break down the nitrogen in the waste into natural fertilizer that is bioavailable for your plants. Manure is even more effective as an activator in compost. One of the best sources of microbes is fish emulsion, which has liquid fish remains as well as fish waste – more about that later.
Compost ~ There are lots of ways to do it, but the most effective composting methods follow a similar pattern. Restoring the fertility of soil could take several growing seasons to fully accomplish. There are some composting techniques you can apply that will greatly enhance not only the quantity of your harvest, but also the nutrient quality. For more information read the Compost Tea page.
Worms ~ Find a source of earthworms to naturally aerate and fertilize the soil. There are specific worms that are best suited for your particular climate and it is important to know which ones are best suited for your area. You may have to search for them, but it should not be too difficult.
Mulch ~ Depending on what you are growing, mulching has its own specific benefits. Cover the soil, compost and manure with grass cuttings, straw, wood chips or some other natural mulch. The mulch will hold the moisture and nutrients close to the roots of your plants and it will prevent weeds from growing. Mulching can reduce the need for watering by as much as seventy-five percent.
Micronutrients ~ There can be a deficiency of several important micronutrients in soil, but the three most common ones are iron, zinc and magnesium. In order to benefit the soil, these micronutrients must be applied in a highly water-soluble form. Just adding minerals will do very little unless they can have an easy uptake by the root system. A broad-spectrum analysis should be done to determine specific deficiencies.
Organic ~ If you haven't noticed by now, my recommendation is to return to more organic methods of food production. Not only have massive tracts of land been degraded to dismal production levels, but the crops that are being grown have greatly reduced nutritional content. Organic methods can restore both the soil and the vegetation that will sustain those who work the land, along with those who are fed from its nutritious produce. The more of these techniques you apply, the more bountiful your harvest will be and the more the soil will be able to produce as it was intended.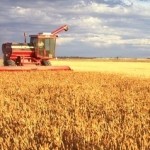 You might be thinking that this is all fine for a garden plot, but what about for huge tracts of land. The truth is that the same principles apply to large-scale agriculture. The only real way to keep land from becoming non-productive is by implementing organic methods. If you search, you will find that there is a growing number of large farms that are switching to organic practices and discovering excellent results.