Composting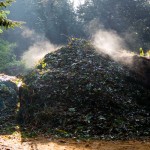 I believe the most important step to composting is understanding the need for it. If you haven't done it already, read my page on Agricultural Renewal. Secondly, become familiar with the composting process. You don't have to get all into the science of the process, but knowing how the process works will help you have a more successful composting experience. You should understand that there are five conditions that must be controlled during composting. These "controlled conditions" are:
Green and Brown Balance ~ Decomposition requires a balance of "green" organic materials (grass clippings, green leaves, food scraps, manure), which contain large amounts of nitrogen, and "brown" organic materials (dry leaves, wood chips, branches, paper), which contain large amounts of carbon but little nitrogen. Getting the right mix may require some patient experimentation and is part of the art and science of composting.
Particles ~ Grinding, chipping or shredding materials decreases the size of your feedstock particles and increases the amount of  surface area on which microbes can feed. Smaller particles speed up the decomposition process and help maintain optimum temperatures (see below). If the particles are too small, however, they might prevent air from flowing freely through the pile.
Moisture ~ Microorganisms living in a compost pile need enough moisture to survive. All organic material contains some moisture, but if the pile gets very dry, additional water must be added in the form of rainfall or watering. Too much moisture can also be a problem. The compost pile can become so saturated with water that it begins to rot or mold. Some growers actually have a humidity meter so they can determine if there is a need to aerate the pile or add more dry material or if there is a need to add more water.
Air ~ Turning the pile (with a pitchfork for smaller piles, specialized equipment for large-scale composting) or adding feedstock such as wood chips and shredded paper all help aerate (add air to) the pile. Aerating the pile allows decomposition to happen at a faster rate than anaerobic (smothering) conditions. Care must be taken, however, not to provide too much air, which can dry out the pile and slow down the composting process.
Temperature ~ Microbes require a certain temperature range for the best decomposition of the compost material. Elevated temperatures promote decomposition (breaking down larger particles into smaller particles) and destroy pathogens and weed seeds. Microbial activity can raise the temperature of the pile's core to 140°F (60°C) or higher. Elevated temperature means that the microbes are decomposing the organic matter at a rapid pace. It also means that the process is far from being finished. If the temperature does not increase, anaerobic conditions (rotting, molding) can occur. Controlling the previous four conditions can bring about a more ideal temperature and faster decomposition. You can usually smell the difference – a compost pile with a pleasant earthy fragrance is ideal, but if it gives off a rotten or moldy odor, then you need to mix the pile and possibly add more dry brown materials.
The 3 Phases of Composting
Knowing what is happening to your compost pile will help you understand when and how to take action and when to let nature work. Here are the three main phases of composting, remembering that weather conditions can cause a speeding up or a slowing down of the process:
Sanitizing Phase (1 to 3 weeks)
Stabilizing Phase (8 to 12 weeks)
Maturing Phase (4 to 8 weeks)
Sanitizing – This one to three-week period is characterized by high temperatures. This most important phase is to kill off weed seed and pathogens. The materials should begin to heat up quickly and naturally as they change from a variety of chunky organic particles into more uniform granules of compost. At this point you will want to monitor the temperature and moisture content of the composting material every day.  During this phase the temperature of the compost must be kept at a minimum 60ºC (above 140ºF) for a minimum of 7 days. It is not uncommon during the first two weeks of composting to see temperatures reach 70ºC to 80ºC (above 160ºF).
The compost should be turned at least two times during this phase because you want to maintain aerobic decomposition throughout the pile. Some particles will not decompose if they are left on the surface of the pile, so it is important to work those into the core for more uniform composting.
Stabilizing – Elevated temperatures will continue during this 8 to 12-week phase, gradually decreasing  as the decomposition process begins to slow down. You should continue to monitor the temperature and moisture levels of the pile, but once or twice a week is sufficient.  The compost should be turned every 3 to 4 days.  At the end of this phase you may want to screen out any remaining larger particles. These are removed to prevent clogging or uneven distribution when the compost is applied to the garden or field. It will not hurt anything to leave them in, but it is not likely they will get smaller during the final maturing phase. If you like, these larger particles can be placed into your next compost pile.
Maturing – After screening, the compost pile can be left alone to allow further uniformity in microbial populations. This  phase can last four to eight weeks before the heat of the pile decreases to ambient temperature. At the end of this phase the compost is ready to use. It should be maintained moist to support microbial life.
The composting process described here is the same for both a small garden and a commercial farming operation. The only difference is in the amount of compost you are going to need. Further enhancement of composting can be accomplished by implementing compost tea, vermicomposting and mulching.
Composting topics:  Garden Composting ~ Large-Scale Composting ~ Vermicomposting ~ Compost Tea ~