Compost Tea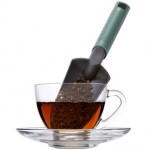 Making good compost tea is probably the most powerful thing an organic gardener can do to enhance the quality of both edible and floral gardening. The only reason it is called "tea" is because it is similar in color to tea. The term "brewing" is used by quite a few gardeners, but it is not like regular tea that has to have hot or boiling water for brewing. Cool or warm water is fine, but hot water is a killer. One of the main reasons for making and using compost tea is to multiply microbial life in and around your plants, so keep the tea tepid!
The art and science of making compost tea has been in use for the last 40 years. Compost tea (also called "compost extracts") was developed in Europe and especially in Germany by microbial scientists. As the amazing results of using compost tea began to spread around the world, many different recipes began to be publicized. You should know that hundreds of recipes and claims about compost tea have been posted, but it is a good idea to follow only the ones that have credible results. Those are the only ones I am interested in sharing with you. The important thing is to get started, but if you try to decide among so many different ideas, you will get "paralysis from analysis." So, "keep it simple" and "tweak it" as you go.
Not only is making compost tea cheap and easy, it also provides plants with a healthy blend of nutrients and an abundant supply of beneficial microorganisms when made correctly. Unlike using compost in the soil, which slowly releases nutrients into the root system, compost tea provides plants with instant nutrients, as the liquid is  immediately soaked up by your plants and the soil on which it is poured, sprinkled or sprayed. Whether you are a novice gardener or more advanced, making compost tea is one of the easiest things you can do and perhaps the most visibly effective. It also requires very little equipment to make. You will need –
2 Containers (5 gallon buckets are good for starters)
Cured Compost (approximately 1 quart or 1 liter) Your own fresh compost is great or you can buy a bag of commercial compost
Dechlorinated Water (enough to fill the container almost to the top). You can dechlorinate the water, removing chlorine and chloramine with a chemical neutralizer from an aquarium supply in less than 10 minutes. If you only have chlorine in your water supply it will evaporate by allowing the water to sit in the sunshine for 24 to 48 hours.
Filter (cheesecloth, pantyhose or other fine strainer)
Applicator (bucket, watering can or hand pump sprayer)
Here are step by step instructions for making an effective compost tea. Try this and then you can try some variations.
Place the fully-matured compost loosely in the container.
Add water to the compost. Fill the bucket, leaving enough space at the top so that when you stir the mixture, it does not spill over the sides.
Let your compost tea "steep" for 12 to 48 hours, stirring the mixture occasionally. This causes the microbes and nutrients to be released from the solid matter and begin to multiply.
Keep the bucket in a shaded area where it will remain warm, but avoid placing it in direct sunlight, as it can overheat the water and damage the microbes.
Strain the compost tea from the particles. Make sure to remove all small particles from the mixture, so it can easily be used in a sprayer, if you desire.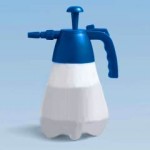 Now, your compost tea is ready to use. Apply the tea full-strength to your plants. Using a watering can or bucket, pour the tea around the roots of the plants. Then, with a sprayer apply to the tops and bottoms of leaves directly for early morning or evening foliar (leaf) feeding. Apply as desired, 2-3 times per month. You will notice a marked difference in your plants. The leaves will green up in a few days, but the best part is that your plants will produce more and the produce will be better tasting and more nutritious.
The strained material can go back into your compost pile to absorb more nutrients. If you plan to make more tea right away, use new compost, as the ingredients you just used have surrendered most of their nutrients. Compost tea should be relatively fresh and full of life. You can make a schedule that works for you so that your compost tea doesn't spoil.
Optional Methods and Ingredients
Many gardeners use an aeration pump (aquarium pump) to constantly stir and add air to their tea. This is a good idea, especially if you are going to let your tea sit for more than 12 hours. This keeps the mixture aerobic and prevents spoilage.
It is also best to use an aeration pump if you are going to add molasses, fish emulsion or seaweed.
You can add micronutrients such as iron (ferrous sulfate), zinc (zinc sulfate) and other trace minerals. Broad spectrum micronutrients can be added to your tea in the form of volcanic powder or volcanic soil.
Adding worm castings to your mix is a potent organic ingredient.
Any combination of these "optional methods" will nourish your soil and your plants and prepare your soil for marvelous results from future plantings.
Give your garden the health drink of compost tea! It's nature's best liquid fertilizer!