Vermicomposting
A very special and nutrient-rich compost can be purchased online or from garden nurseries called Vermicompost or Worm Castings. Of course, you can create your own Worm Castings for your home garden if you are looking for a fresher, less expensive alternative. It is one of the best organic fertilizers available. Special types of worms, specifically red wigglers and european nightcrawlers, feed on decomposing food scraps, other organic matter and animal waste and convert it into a rich, dark, dirt-like substance. The nutrient content of the digested worm castings then becomes much more bioavailable for uptake by plant roots.
How to do it . . .
For vermicomposting at home, a variety of bins are commercially available, or you can adapt available containers. Plastic makes the best material for your vermicomposting container, but you will want to make sure there are no chemical residues that could harm or kill your worms. Bins need holes or mesh for aeration and a spout or holes in the bottom for excess liquid to drain into a tray for collection of excess moisture. This liquid accumulates and leaches out some of the liquid from the digested organic matter, which should be poured back into the bin rather than discarded or applied to plants as it could prove too concentrated and burn plants. The advantage of commercial bins is that they are constructed especially for the optimum care of your worms. They are also built to incorporate the best growing conditions for your final vermicompost product.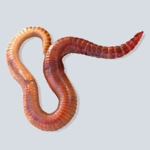 The most common worms used in composting systems, red wigglers (Eisenia foetida, Eisenia andrei, and Lumbricus rubellus) feed most rapidly at temperatures of 15-25°C (59-77°F). European nightcrawlers (Eisenia hortensis) can also be used. All of these species have trouble surviving at temperatures below 10°C (50°F), and temperatures above 30°C (86°F) may also harm or kill them. If a worm bin is kept outside, it should be placed in a sheltered position away from direct sunlight and insulated against frost in winter. This temperature range means that indoor vermicomposting with these species of worms is suitable in all but tropical climates. Blueworms (Perionyx excavatus) may be used in the tropics. Other species of worms may be suitable for vermicomposting, but these are the most commonly used.
There are few food wastes that worms cannot compost, although meat waste and dairy products are likely to rot and give off undesirable odors and breed maggots and flies, so you probably want to avoid these, especially if your worm bins are indoors. Here is a list of preferred food wastes to put in your vermicomposting bin ~
All fruits and vegetables (including citrus and other "high acid" foods)
Vegetable and fruit peels and ends
Coffee grounds and filters
Tea bags
Grains such as bread, cracker and cereal (including moldy and stale)
Eggshells (rinsed off, to create a more alkaline soil)
Pulverized limestone, calcium carbonate can be added to the system to basify the pH
Leaves and grass clippings (not sprayed with pesticides)
Green waste should be added in moderation to avoid overheating the bin and endangering the worms. Vermicompost is ready for harvest when it contains no scraps of uneaten food or other organic material. At that time the material can be sifted through a screen to return the worms to their bed and collect the worm castings for working into your garden soil or mixing with other compost to make a super plant-nourishing compost tea.
Benefits of Vermicomposting ~
Unlike other compost, worm castings contain worm mucus, which helps prevent nutrients from washing away and evaporating.
Holds moisture near the surface better than plain soil.
Enriches soil with micro-organisms (enzymes such as phosphatase and cellulase and plant hormones such as auxins and gibberellic acid).
Microbial activity in worm castings is 10 to 20 times higher than in the soil and organic matter that the worm ingests.
Attracts deep-burrowing earthworms already present in the soil
Enhances germination, plant growth and crop yield.
Stimulates root growth and improves the plant's ability to uptake nutrients.