Drip Irrigation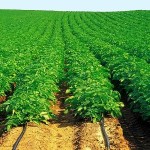 Drip irrigation, also known as trickle irrigation or microirrigation, is an irrigation (watering) method which saves water and fertilizer by allowing water to drip slowly to the roots of plants, either on the soil surface or directly into the root zone, through a network of valves, filters, pipes, tubing, and emitters. Although some drip irrigation systems are used in conjunction with the application of chemical fertilizers, herbicides and pesticides, we are going to exclude those chemical methods in our discussion and focus only on organic methods that are incorporated into drip irrigation systems.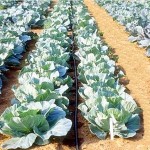 As with all of my topics, this is not intended to be an exhaustive study on the subject, but a rationale for moving towards a more sustainable way of doing things. Drip irrigation, when used properly, is a significant step toward water conservation, automating some agricultural procedures and targeting specific plant locations with precise hydration metrics. The most effective use of drip irrigation is in arid and semi-arid climates, where agriculture is difficult or impossible because of the scarcity of water, but all climates can benefit from water conservation practices.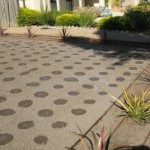 Lawns, gardens, greenhouses, golf courses and farms can all benefit from a drip system. As you can see by the spreading dark circles in the dirt, this lawn is ready for sodding and it will have total irrigation coverage as the drip system timer turns it on and off throughout the day. It can even be turned on during summertime heat without concern for evaporation, since all the water will stay below the soil surface. Sprinkler irrigation systems are less efficient because of water loss through evaporation.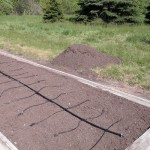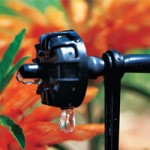 Drip irrigation has a history that dates back thousands of years, but it has been growing in popularity for the last 50 years because of technical improvements in drip equipment and tubing which make systems more effective, easier and quicker to install and more economical.