Heirloom Seed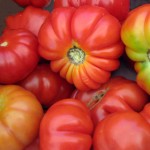 Heirloom Seeds …Plants …Varieties …Produce …Vegetables are terms applied to garden plants that were commonly grown during earlier periods in history, at least prior to World War II, but which are not used in modern large-scale agriculture. The difference between heirloom seeds and seeds sold by most seed companies and stores is that after WWII the practice of hybridization and genetic engineering really became popular. Seeds produced through hybrid methods do not produce second generation fruits and vegetables like the ones from the first generation. Heirloom seeds consistently produce the same fruits and vegetables generation after generation.  Heirloom produce maintains its traits through open pollination, while fruit tree varieties such as apples have been propagated over the centuries through grafts and cuttings. The trend of growing heirloom plants in gardens has been growing in popularity since the 1990's.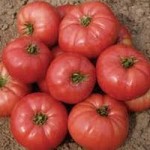 Unlike modern cultivars, these mainstays of 19th and early 20th century gardens often go by different names. For example, Ponderosa Pink, a tomato variety that dates from the 1890's and is still seen in catalogs, has been variously known as Majestic, Colossal and Peak of Perfection. Heirlooms also offer a greater variety of sizes, shapes, colors and tastes than the uniform hybridized varieties that are bred to meet the needs of commercial growers. Although these living antiques tend to ripen more slowly, they have robust flavor and keep well. Gardeners of days gone by canned, pickled, dried and stored their harvest in preparation for winter.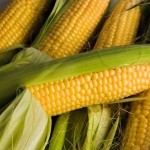 Preserving a heritage from the past or for personal gratification or just for the novelty are only minor reasons for planting, harvesting and replanting heirloom varieties. Because they were grown before the advent of modern chemical pesticides and fertilizers, their genetically coded resistance to certain pests and diseases gives them an advantage over their more fragile uniform hybrid counterparts. They tend to be more hardy and respond better to organic growing methods. To find these treasured heirlooms for yourself, look to seed exchange societies, local botanical gardens, catalogs and, of course, online.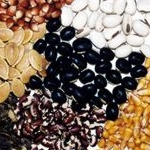 The nicest thing about heirloom seed is that if you liked a certain type of produce from your garden, you can save the seed, replant next spring and have exactly the same produce that you enjoyed this year. You can't do that with the hybrid seeds that come from most stores. Here is an example of how you can save the heirloom seeds from this year's tomato crop so you can produce the same rave reviews from your prize tomatoes year after year without having to buy new seed every year . . .
Saving Your Heirloom Tomato Seeds for Replanting ~
What you will need ~
One ripe tomato that represents the best of its variety
a small jar
a fine mesh strainer
a paper coffee filter
paper envelopes
dessicant packets
a gallon size zip-lock baggie.
Follow these 6 steps ~
Tomato seeds need to ferment. Scoop out the seeds and pulp from inside your best ripe heirloom tomato. Put the whole mess into a small jar and add a couple of tablespoons of water. Mix it around with your finger or a spoon. Cover the jar with plastic wrap, held in place with a rubber band. Poke a small hole in the center of the plastic so that gasses can escape.
Place the jar in a warm location like a sunny windowsill or on top of your refrigerator. Every night take the plastic wrap off the jar and stir the seeds. Replace the plastic wrap and secure it to the top of the jar. If you put new plastic on the jar, be sure and poke a hole in it.
When the top of the stuff in the jar looks scummy and the seeds are no longer stuck inside the goo, spoon the scum off the top and then pour the contents of the jar into a fine sieve and rinse thoroughly. Let the seeds drip for a few minutes to get as much water off as possible.
Put a paper coffee filter on a plate and flatten it. Dump the rinsed heirloom tomato seeds onto the filter. Spread them out until they are only one layer thick, with no seeds touching. Leave them to dry this way, stirring the seeds around with your finger a couple of times a day.
When the seeds are bone dry, store them for next year. Keep them dry! The best way I have found to store seeds is to put them in paper envelopes. Write names of the seed variety on the envelopes. Count the number of seed you want in each envelope, record the number of seed on each envelope and seal them.
Then, put all your paper envelopes of seeds into a gallon size zip-lock baggie with some of those little packets of dessicant drying material. This way, no moisture can get into the baggie and if there is any moisture in the envelopes, the dessicant will dry it out.
Other types of plants vary somewhat in the procedure of saving their seed for the next planting season and most seeds are easier to harvest than tomato seeds. I included these instructions so you can see that there are certain important steps to be taken so the seeds will be in their best condition to germinate for next year's planting.