Non-Toxic Pest Control
In agriculture, both home gardening and commercial farming, biological pest control is a method of controlling pests (including insects, mites, weeds and plant diseases) using minimal or no chemical intervention (pesticides, herbicides and other chemical treatments). Biological pest control employs various natural methods for protecting plants from invasive and harmful pests.
One of the most welcome sights in a garden is the ladybug. Not only do they brighten up the surroundings with their brilliant colors, but they feed on aphids, scale insects, mealybugs and mites. Ladybugs can be purchased in large quantities to multiply their beneficial effects. This is one of a multitude of biological pest control methods that can be used to promote organic agricultural practices.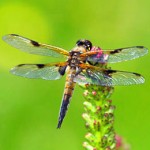 Dragonflies are important predators of mosquitoes, both in the water, where the dragonfly naiads (nymphs) eat mosquito larvae, and in the air, where adult dragonflies capture and eat adult mosquitoes. Chemical mosquito control programs that spray adult mosquitoes also kill dragonflies, thus removing an important biological control agent, which in the long term can actually have the opposite effect of increasing mosquito populations. Dragonflies also eat other small insects like flies and ants.
In the southern states of the US fire ants have become a major problem over the last few decades. Studies are now in progress to introduce natural enemies to the fire ant. One such study that is being conducted in several states is the introduction of the tiny Phorid fly that looks similar to a fruit fly.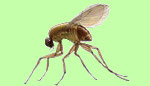 Here it is greatly enlarged, but this tiny insect (actual size is less than 1/4 inch, 0.5 cm) specifically targets fire ants when it is ready to lay its eggs. A Phorid fly deposits an egg on the body of a fire ant and when the larvae hatches, it bores a hole in the fire ant's head, very effectively killing the ant. This particular fire ant and the Phorid fly are both native to Brazil, but fire ants came to the US on cargo ships in the 1930's without its brazillian rival. The experimental introduction of the Phorid fly has been proving effective in field tests and these natural predators may soon be produced in large numbers as a control measure to reduce populations of this invasive pest which has become a major menace to both plant and animal life.
Beneficial nematodes can be used successfully on numerous insect pests. Of some 80,000 species of nematodes, only 8 have the characteristics to be classified as beneficial, but these 8 are very beneficial. Steinernema carpocapsae, S. feltiae, S. glaseri, S. kushidai, S. riobravis, Heterorhabditis heliothidis, H. scapterisci and H. bacteriophora nematodes have been thoroughly tested to be safe and environmentally friendly for insect pest control. If you decide this is a good alternative, make sure you are dealing with a reputable producer.
Classical biological pest control is the practice of importing and releasing natural enemies or predators to control pests.
The first step in the process is to determine the origin of the pest.
Then collect appropriate natural enemies associated with the pest or closely related species.
The natural enemy is then passed through a rigorous process to ensure that no unwanted organisms are introduced.
They are mass produced and released.
Follow-up studies are conducted to determine if the natural enemy becomes successfully established at the site of release and to assess the long-term benefits of its presence.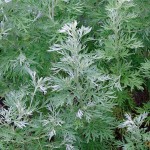 Wormwood, Artemisia absinthium, (one of many different varieties of wormwood) has been used for centuries as a moth repellant, general pesticide and as a tea/spray to repel slugs and snails. Closely kin to Wormwood is Southernwood and some like it better for natural pest control. Wormwood plants are especially effective against cabbage larvae and cabbage butterflies. This includes all members of the cruciferous (cabbage family) vegetables. Artemisia Absinthium should be planted near [12 to 18 inches] away from plants you are protecting, as no other plants, including weeds, will grow in the shade of these plants. Fullgrown, wormwood grows 3 to 4 feet tall. The wormwood's silvery greenish-gray aromatic foliage adds a nice touch to floral arrangements. Dried wormwood foliage can be placed alongside other vegetables as an insect repellant. A natural sprayable insecticide can be made by chopping up green wormwood foliage in water and adding a little dissolved castille soap. Care should be taken to avoid spraying directly on edible plants.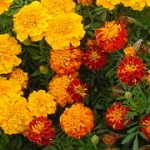 French Marigolds, Tagetes patula, add such vivid beauty to a garden, but they can also be a valuable part of pest control. The flowers are used mainly as an edging plant on garden borders. It is a low-growing [5 to 18 inches tall] plant with a variety of red, orange and yellow blossoms. African or Mexican Marigolds, Tagetes erecta, grow taller [20 to 40 inches tall]. The marigold's pungent aroma, that most people find pleasant, is repelling to many harmful insects and they do a very effective job at shielding garden plants from infestations of certain pests. Lutein and Zeaxanthin are extracts from marigold flowers (Tagetes erecta) and are used for ocular (eye) health.
Choosing a diverse range of plants for the garden can help to regulate pests in a variety of ways, including ~
Masking or Shielding Plants that protect the crop plants from pests.
Scented Plants that produce odors that confuse and deter pests.
Trap Plants that entice pests away from crops.
Nursery Plants that provide breeding grounds for beneficial insects.
Alternative Habitat Plants, where beneficial insects can live and reproduce. These nectar-rich plants, that bloom for long periods, are good for beneficial insects during the adult stage, but as larvae become predatory, leaving the habitat and seeking out harmful infestations. A good example of this is the soldier beetle which is frequently found on flowers as an adult, but whose larvae eat aphids, caterpillars, grasshopper eggs and other beetles.
One method of plant protection is using different types of garden fabrics. These can be used to protect plants from cold, heat, weeds and pests.
An inexpensive black or dark-colored porous fabric can be laid down before planting to prevent weed emergence, protect from extreme temperatures and to prevent moisture evaporation.
The fabric is easily measured and marked for plant placement.
Holes can be cut in the fabric where the garden plants go into the soil.
Finally, cover the remainder of the fabric with mulch.
Leave the cloth and mulch in place until planting preparation next spring to hold moisture and prevent soil erosion. The best of these fabrics are biodegradable and will be absorbed into the soil before the next growing season. Otherwise, they need to be taken up and properly disposed.
Other fabrics can be used to cover plants and protect them from pests, birds and animals. Other pests, including weeds and plant diseases can also be controlled by a variety of natural organic methods, but you can see that nature has all its checks and balances. It is up to us to discover the best ways to deal with agricultural enemies without unnecessary exposure to poisons and hazardous chemicals. Fortunately, most of our research has already been done and the answers are right at our fingertips.