Organic Pesiticides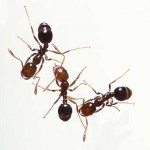 Some pests have become such a nuisance that almost nothing seems to get rid of them except products that are toxic to the environment or animals or people. The imported red fire ant from Brazil is one good example. These little fiery pests came to the US in the 1930's on cargo ships and have invaded all of the southern states from east coast to west coast. They have flourished to the point that there are far greater numbers of fire ants in the US than in Brazil. In their native land natural predators control their numbers but those natural enemies have not yet been established in significant numbers in the US.
There are some commercial poisons that have proven effective in controlling them, but in gardens and agricultural areas where food is raised there is a need for an environmental solution that is both lethal to fire ants and safe for food products.

Because of these concerns the Organic Materials Review Institute was founded in 1997 and is a non-profit third-party testing and certification organization to study products used in gardens and commercial food production that maintain health and safety standards. The USDA also reviews products and there is a wealth of information and recommendations between the two of them.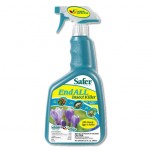 Several companies have surfaced in response to concerns of both growers and the general public. A wide variety of products, from soil enrichment to pesticides are being offered in local organic stores and online. Products such as this broad spectrum insect and pest control carry the OMRI seal of approval and offer a legitimate alternative to pesticides that are harmful to the environment and people who eat the produce. Some of these organic pest control products can even be used right up to the day of harvest. Be sure to follow instructions and warnings on the label.
Fire ants can be controlled by safe products such as diatomaceous earth, pyrethrin, citrus oils and pine oils, which are all organic derived and all break down in a short time to pose no threat for the environment or people. Many other organic products are available for control of other pests and can be used with the same confidence.