Vertical Gardening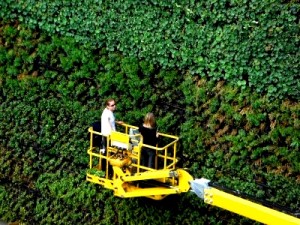 If you have limited space for a garden and want to maximize every square inch, or if you want to add drama, variety, height and depth to your landscape, you may want to consider implementing vertical gardening techniques. A vertical garden can be a stand alone feature in your landscaping or garden plot, or it can become a complete transformation of your overall landscaping design. Some of these techniques can even be implemented on a commercial scale. Vertical gardening has an infinite variety of alternatives, only limited by your imagination. Here are some basic ways to create a vertical garden ~
Container Plants ~ Vertical climbing plants can come in all different varieties. Some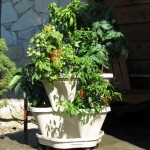 of the best are roses, vines, and even vegetables. Growing vertical gardens in containers will give you a little more freedom as to where you place the pots. Container gardening has become quite popular, so you can buy or build the containers with trellises or upright grids for the plants to grow vertical.
Arbor Gardens ~ A garden that has an arbor for a centerpiece adds dramatic affect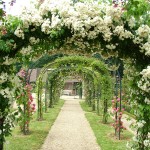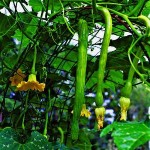 to the entire garden. Choosing the right plants that will grow up the arbor will multiply the impact ten fold. Roses are a great addition to any arbor and will grow rapidly. In some warmer areas bougainvillea with their rich colors do extremely well on arbors. The plants can be started on each side of it and given some help to grow upwards with cloth ties. Vegetable vines like cucumbers, squash or zucchini add a novel yet practical touch. Once the plants become established, this vertical garden will grow continuously around the arbor.
Vertical Vegetable Gardens ~ Instead of having to continually bend down to tend to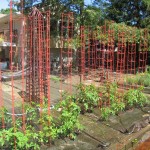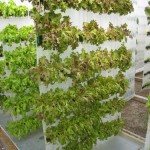 vegetables, having them grow upwards can be a refreshing alternative. These types of vertical gardens can be as complex as you want them to be. Tomatoes are the most popular type of vegetable for verticals, but beans, peas, peppers, lettuce and other vegetables make fantastic use of space and add a splash of creativity.
Dramatic Wall Coverings ~ Some gardeners like to go for a dramatic effect in their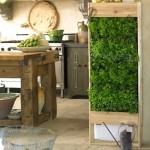 gardens by planting flowering vines that take over an entire wall. This can be very beautiful and adds a completely different look to your garden and landscaping. A wall covering type vertical garden can be done on a wooden fence, the side of a home, or just a stand alone wall built in your garden or somewhere in the house.
Tiered Planter Garden ~ A tiered vertical garden is just a more complex form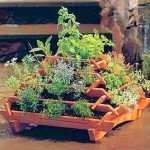 of container gardening. You can build wooden containers on the ground and gradually tier them in as they climb higher. Much like a pyramid in shape, this type of vertical garden adds a great sense of character and architectural design into the garden. The plants can either grow upwards towards the top, or downwards. The plants can also be offset with various rocks, water features, and smaller ground covering type flowers.
Gutter Gardening ~ I just had to include this very creative and practical method of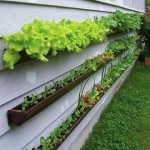 utilizing vertical space by installing storm gutters on an existing wall or on a constructed wall. At first, you may laugh, but just think of the space you could save and the multiplied amount of herbs or vegetables you could grow with this homemade system. Short plants like lettuce, chard, chives and many other types of herbs would grow best, but any number of other plants could grow well with this method. You could also incorporate drip irrigation into this method and expand a novel idea into a system that conserves water usage and gives you complete watering of all the plants on the wall with a minimum output of time.
Hanging Vertical Garden ~ An artistic yet simple vertical garden technique is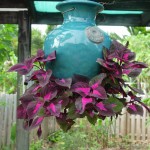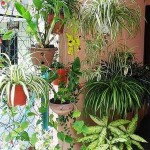 hanging pots from ceilings or railings. Petunias, coleus and geraniums are lovely plants for this type of vertical garden space. Hanging several pots together in a cluster is quite a wonderful decorative idea for any room that is sunny or hanging from a deck or patio. These plants can also be moved easily during extreme weather or just for a fresh look.