Go Green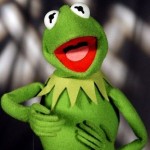 In the unforgettable words of Kermit the frog . . . . . . "It's not easy being green." With all the media hype that promotes a greener world, it seems somehow backwards that you have to spend more to go green. Shouldn't going green mean that we're getting back to basics? If it's true that there are lots of ways you can go green and save money, then let's explore going green without going broke.
Sometimes you have to decide that doing the best thing just means that you will do whatever it takes and it's OK to depart from the accepted norm.  Sometimes it is better to spend more if there are real long-term benefits, but the spiraling profit-taking to dominate the masses doesn't need to include you and me . . . right?
So, please read the sub pages of this growing study about how we can be less destructive to our own bodies, to our communities and to our world. Let's study creative ideas about how we can make positive changes. Then share your own ideas with me. That's what this forum is all about.
Green Topics:  Green Tips ~ Recycling ~ Electric Cars History ~ Hybrid Cars ~ Electric Cars You Can Buy Now ~ Electric Cars Coming Soon ~ Electric Taxis ~ DIY Solar ~ DIY Wind Turbines ~