DIY Wind Turbines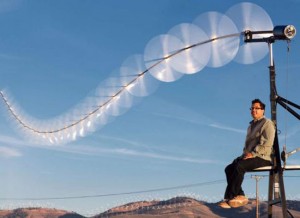 This is a little radical, but the idea is that this guy built his own wind turbine. You may not be as elaborate as he was and you may not have the space to build one quite this big. Here's the thing – if you have any talent at all for building things and you want to power your home (or shop or camping trailer or whatever), you might take a look at what different ones have posted on the internet and just give it a whirl. Below is a collection of Do-It-Yourself wind turbines with instructions on how they did it that you can look at and compare and maybe . . . just maybe try it yourself. Have fun!
DIY 1000 Watt Wind Turbine. We built a 1000 watt wind turbine to help charge the battery bank that powers our offgrid home. It's a permanent magnet alternator, generating 3 phase AC, rectified to DC, and fed to a charge controller. The magnets spin with the wind, the coils are fixed, so no brushes or slip rings necessary.
Home Built Wind Turbine. I reduced the project to just five little systems. If I attacked just one at a time the project didn't seem so difficult. I decided to start with the generator. My online research showed that a lot of people were building their own generators. That seemed a bit too complicated at least for a first effort. Others were using surplus permanent magnet DC motors as generators in their projects. This seemed like a simpler way to go. So I began looking into what motors were best for the job.