Electric Cars You Can Buy Now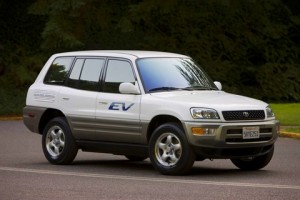 Toyota's Rav4 EV (1997-2003) blazed the trail for mass production of Electric Vehicles. Toyota discontinued the production because of the prohibitive cost of battery replacement. With that obstacle overcome, automakers are beginning to launch their entries into the marketplace. You may not be able to go to a dealership and drive one off the lot just yet, but you can reserve your place to be among the first to drive one home as they roll off the assembly line.
Even though I believe it would be best if all our vehicles were non-polluting 100% EV's, you may decide that the PHEV (Plug-in Hybrid Electric Vehicle) is best for you. The difference between a Hybrid Vehicle and a PHEV is that a Hybrid has a gasoline engine as its prime mover and a PHEV has one or more electric motors as its prime mover. If most of your driving is city driving, you may rarely or never run the gasoline powered generator in your PHEV, but it is available in the event that you need to make a long distance trip. Watch this video on PHEV's.
As the vehicles become available for reserve or purchase (in the US), I will move them from the Coming Soon to the You Can Buy Now category.
EV's Available Now: Tesla Roadster ~ Tesla Sedan ~ Nissan Leaf ~
Plug-in EV's Available Now: Chevy Volt ~
Other EV Pages: History ~ Coming Soon ~