2010 Tesla Roadster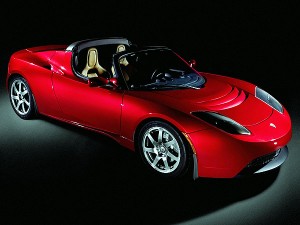 Tesla Motors introduced the Tesla Roadster publicly at the San Francisco International Auto Show in Sep '06 and began delivery in Aug '08. Over 100 Roadsters were delivered in 2008 and production reached 1,000 by January, 2010. Tesla purchased a full-scale assembly plant in Fremont, Ca, May, 2010, to step up production.
The overall design and performance is similar to the Lotus Elise. This baby does 0-60mph in 3.7 seconds. It has an advertised range of 250 miles on a full charge of its lithium ion battery and with a 45-minute quick charge, you can be back on the road again. In 3.5 hours its battery bank is fully charged. Most owners just plug it in to any outlet overnight and the next morning they are ready to pass every gas station in sight. Average electric cost for a 250-mile trip is about $4. That's equivalent to 125 mpg. Imagine total freedom when Tesla develops an on-board charging system.
You may have to wait in line for a couple of months to receive delivery on one for around $100,000. Not a ludicrous price tag for a hot car like this.
Other EV Pages: EV History ~ Tesla Sedan ~ Chevy Volt ~ Nissan Leaf ~ Toyota RAV4-EV ~ Electric Cars Coming Soon ~