2012 Tesla Sedan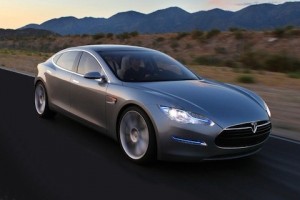 In 2012 you can get a family car from Tesla Motors. In fact, you can reserve one now. The Model S is a 4-door sedan with Aston-Martin styling. Acceleration 0-60 is a breathtaking 5.6 seconds. It has a comfortable 300 mile range on a single charge.
Because Toyota and Mercedes-Daimler has partnered with Tesla Motors and because the US government wants to see this green car succeed, you should be able purchase the S for $49,900 (net price after a $7,500 federal tax rebate).
Remember when the redesigned Beetle came out? Thousands lined up to give Volkswagen dealers their money and wait for their cars to arrive. You may have to put a $5,000 deposit down and wait for several months for delivery like they did until production catches up to demand. As a matter of fact, Tesla dealers are now taking pre-production deposits on the sleek Model S. Currently, over 2,000 are reserved.
Tesla will be a success story. First of all, because it is has the backing of both the government and two major auto manufacturers. Second, Peak Oil has crested and has started its decline. Third, it is just such an exciting concept.
Other EV Pages: EV History ~ Tesla Roadster ~ Chevy Volt ~ Nissan Leaf ~ Toyota RAV4-EV ~ Electric Cars Coming Soon ~