Electric Taxi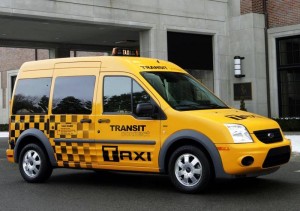 As of May 1, 2010, the city of Boston is the first major municipality to embrace a 100% green energy taxi. Turning the 2010 North American Truck of the Year into a special purpose vehicle for the taxi industry makes a spiffy transformation. The Ford Transit Connect comes as a factory ready Taxi Package, specifically designed to comply with the specs of the city's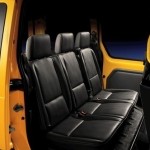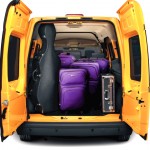 passenger service. The easy access luggage space is roomy and the taller interior vertical architecture provides comfortable passenger entry and exit with ample  headroom and legroom.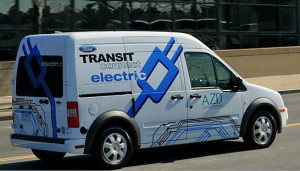 There is a panel van version of the battery powered electric that is also available, but the big news is that a major city is encouraging one of its transportation services to drive this very functional, very efficient vehicle.
Do you like the feel of full torque acceleration when the light turns green? How about a penny pincher when it comes to daily cost of operation? The Transit Connect Electric has an 80-mile cruising range, and a top speed of 80 mph. It can also climb a 20 percent grade, which should easily satisfy the demands of the landscape of most cities.
There are always options available, such as navigation and audio packages. More importantly, if you still feel the need for an internal combustion engine, your Transit can be powered by a fuel efficient gasoline engine or a cleaner burning CNG or LPG conversion.
Other EV Pages: EV History ~ EV Coming Soon ~ EV You Can Buy Now ~ Tesla Roadster ~ Tesla Sedan ~ Nissan Leaf ~