Recycling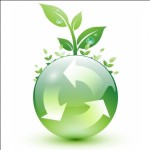 We live in a world of single-use products. The list of similar products that have come on the market and that potentially could come on the market is inexhaustible. Everything from personal hygiene to bottled drinks to snack foods.  They all have one thing in common . . . disposable packaging. Our landfills and waste disposal sites are mushrooming. Compare this to a village of food gatherers who produce only human waste and the difference is staggering!
I recently read a newspaper article that was talking about landfills. I learned a very amazing thing. Do you know what item is found in landfills more than anything else? Paper–simple paper. Newspaper, advertising paper, bills, office paper, school paper, all kinds of paper. Many community recycling programs don't have adequate facilities to recycle all this paper (and plastic) and so the majority of what goes into your recycling bin, you guessed it, goes to the landfill. Without proper chemical or microbial decomposition, this paper can stay intact for centuries!
Try these suggestions:
If your community doesn't offer recycling bins, local schools and other organizations have recycling containers, where you can take your paper and help your community.
Use some of your paper in your compost. Don't have a compost site at your house? Start one. It's easy! Go to my page on composting and learn. It is absolutely the best fertilizer for your yard, your garden, your flowerbeds, except maybe for compost tea – check it out!
When choosing products, try to focus on minimal packaging.
Buy in bulk when possible; it will save you money and minimize waste.
Choose to eat more fresh organic produce than processed chemically-treated packaged products.
Start your own backyard garden. Mix garden plants in your flowerbeds. Plant some fruit trees. You will need a garden for your composting project and your compost tea.
More than 8 billion gallons of bottled water are purchased every year and 22 billion empty plastic bottles are tossed in the trash according to National Geographic magazine. Fill your own jugs and drinking bottles with purified water . . . the difference in cost is astounding . . . as much as 100 times cheaper.
Why not make your own unique reusable shopping bags?  Think of it as a witnessing opportunity. Get creative. Experiment with attention-getting phrases in large lettering on your bags that stimulate conversation and give you an opportunity to spread the Good News. You might even have the embryo of an entrepreneurial opportunity.
It is doubtful that we can save the whole planet with these ideas, but we can do something that is good for ourselves and our families and, who knows, maybe save a wandering soul with a divine encounter.