Antioxidants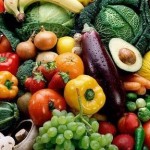 A century ago, 95% of Americans lived in rural locations and almost all food was produced organically and grown at home or grown by neighbors. People back then didn't study all the things we do today because they were getting a a manageable optimized diet that prevented disease and promoted vitality and long life..
Then, agriculture began to introduce chemical fertilizers, pesticides and herbicides, as well as soil degradation practices. Industry started to process foods and add chemical preservatives to them. All this has greatly reduced the nutrient content in the food we eat. A myriad of processed foods have contributed to obesity and to a host of diseases that were once rare, but have become life-threatening to larger and larger percentages of the population.
For us to take responsibility for a healthy diet, I believe the best starting place is with antioxidants. We have all heard the name, but do you really know why antioxidants are so beneficial? Simply stated, oxygen is needed for cellular health in every part of your body. Another word for oxygen is aerobic. Oxygen promotes growth and a multitude of bio-physical processes. Oxidative stress begins to damage, weaken and shorten the life of cells in every part of the body, exposing them to disease and infection. Antioxidants promote cellular health so your cells live longer healthier lives.
If you are the studious type and want to fathom the depths, click on this link antioxidant and get yourself an education. It's a great study and if you can navigate your way through some unfamiliar terminology you will understand how basic antioxidants are to wholesome nutrition.
One thing is key to choosing high antioxidant content. In food science, the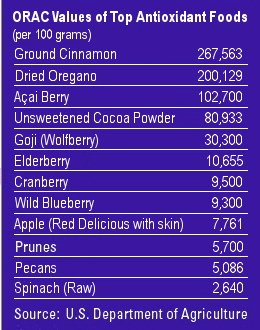 Oxygen Radical Absorbance Capacity (ORAC) has become the current industry standard for assessing antioxidant strength of whole foods, juices and food additives. USDA recommends a total ORAC of 3,000 to 5,000 in your daily diet. Even with enormous values per 100 grams (almost a 1/4 pound), you will most likely need to supplement your daily intake of antioxidants with some "superberry" formulas to reach that level. Most supplements offer less than 1,000 ORAC value per serving. If someone is talking to you about the latest hot antioxidant food or food supplement, just ask them to show you the ORAC value per serving and you will find out some real information or they might have to go find out.
The chart above is by no means an exhaustive list, but just an example of some foods that are good sources of antioxidants. Studies show us that a steady regime of high ORAC foods or supplements have a dramatic effect on maintaining health and preventing oxidative stress, which is a primary cause of many diseases. In addition to whole foods that are high in antioxidant content, food supplements become an easier choice to assure you are getting high potency doses every day.