Essential Oils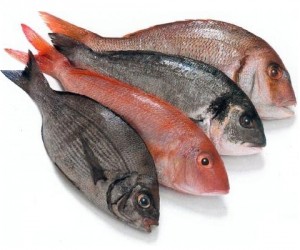 Oils derived from eating seafood help prevent some of the most deadly diseases today, including Alzheimer's disease, asthma, bipolar disorder, bronchitis, cancer and more. Fish oils decrease the risk of heart disease, such as blood clotting [hemostasis], high blood pressure [hypertension], arterial plaque [atherosclerosis] and rheumatoid arthritis.
There are several beneficial components of fatty acids. The 3 most important fatty acids are in the Omega-3 group:
alpha-linolenic acid (ALA)
eicosapentaenoic acid (EPA)
docosahexaenoic acid (DHA)
Researchers are not always in agreement on the specific function of each of these polyunsaturated fatty acids (PUFA), but some say they work synergistically to provide health benefits. The body converts ALA into EPA and DHA. These fats can also be derived directly from certain foods. ALA is most abundant in flax seed and walnuts. EPA and DHA are found most notably in cold-water fish including salmon, tuna, halibut, cod, herring, mackerel, anchovy and sardine.
You will come across those who say that Omega-3 is just a lot of hype and that they don't really reduce the risk of cardiovascular disease. This can be verified if you are talking about low doses of EPA and DHA (300mg/day). However studies indicate that the real health benefits of Omega-3 are realized when the EPA and DHA levels are taken in quantities of (1000mg or more per day). Remember, in most cases fish oils contain about 30% EPA and DHA, so that means your dosage of fish oil supplements should be above 3000mg/day in order to receive 1000mg/day of EPA and DHA.
ALA, EPA and DHA are also available in supplement form. Some say the best source of fish oils are from fresh fish, but because of the threat of heavy metal contaminants your best bet is to take supplements that undergo a stringent process of contaminant removal. You can find a list of popular supplements that meet these standards at Environmental Defense Fund's website.
DHA is an important ingredient for optimal brain function, while EPA is known primarily to lower blood cholesterol and triglycerides. These are considered to be essential fatty acids and should be included in your daily dietary intake.
Flax seed and flaxseed oil are excellent high quantity vegetable sources of the Omega-3 fatty acid alpha linolenic acid (ALA). Studies reveal that inside the body ALA is converted to EPA and DHA, so you will get the benefit of all three in this form. Flax seed also provides another benefit – flax lignans that work in the body as a super immune booster.
These essential oils are beneficial not only for disease prevention but also to develop sharper cognitive function and memory improvement. Studies have shown that diets rich in Omega-3 can result in increased learning ability, problem-solving skills, focus, memory, and communication between cells.
They are very beneficial to infants' brain and eye development. During pregnancy, Omega-3 fatty acids are conveyed from the mother's blood to the developing fetus by way of the placenta. They are vital for the development of the brain and retina membranes of the fetus. The amount of DHA the baby receives depends on the mother's dietary intake of Omega-3 fatty acids.
Omega-3 oils can also prevent osteoporosis. This is because the fatty acids improve calcium absorption in our bones and prevent the bones from becoming brittle. Omega-3 helps improve immune functions, which fight infections and contribute to overall good health.
Omega-3 has also been shown to help promote a positive mood and emotional balance, and can help people maintain healthy mental ability as they age. Low levels of DHA have been linked to memory loss, depression, bipolar disorder, attention deficit disorder, schizophrenia, autism and general learning difficulties or mood swings. Depression in particular has been frequently linked to low levels of DHA, since Omega-3 fatty acids help regulate mood by increasing levels of serotonin, the hormone that relieves depression.
Dozens of studies have shown that Omega-3 has a positive effect in maintaining a healthy heart. Omega-3 can also promote a healthy cardiovascular system, including healthy veins and arteries, as well as help red blood cells maintain their flexibility and smoothness, allowing them to flow more fluidly and to prevent them from sticking to each other. The entire body is positively enhanced by a daily dose of Omega-3.