Peroxide vs Bleach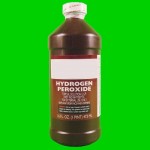 [The following statements do not constitute medical advice and are for educational and recreational purposes only.]
Hydrogen Peroxide [3%H2O2] is a clear liquid sold in pint, quart and sometimes gallon sizes for household use. In the open air it quickly reverts to oxygen and water, which is the reason it is normally sold in brown bottles to protect it from sunlight. It is not to be swallowed as it contains stabilizers that are not approved for internal use. Food grade peroxide [35%H2O2] is available at most health food retailers for internal use and has other specific applications. Included here are some practical and healthy hints for you and yours to use the 3% type. One word of caution: when using peroxide on your body for certain problems, if the problem persists beyond two weeks, discontinue, as prolonged use is not likely to improve the problem.
Take one capful of peroxide (the little white cap that comes with the bottle) and hold in your mouth for a few minutes daily, then spit it out. (Suggestion: do it when you shower.) It has been reported to heal canker sores and your teeth will be noticeably whiter without expensive whiteners.
If you have a terrible toothache and cannot get to a dentist right away, put a capful of 3% peroxide into your mouth and hold it for ten minutes several times a day, then spit it out. The pain should lessen and may even go away. (Go ahead and make an appointment as soon as possible to see your dentist, as this is a sign that urgent dental care is needed.)
Use it periodically instead of mouthwash!
To kill fungus on your feet, pour or spray peroxide on your feet (especially the toes) every night and let air dry. Spray it in your shoes at night so they will be dry and fungus-free in the morning.
Soak or spray any minor cuts or infections with 3% peroxide several times a day.
Fill a spray bottle with a 50/50 mixture of peroxide and water and keep it in every bathroom to disinfect without harming your pipes or septic system like bleach or other disinfectants will.
Spray your toothbrush after use to kill any lingering bacteria.
Whenever you have a cold or plugged sinus, tilt your head back and spray into nostrils with your 50/50 mixture. It will fizz and bubble to help kill the bacteria. Hold for 10 seconds, and then blow your nose into a tissue.
To give highlights to hair or to slightly lighten hair color, spray on hair after shampooing.
Use peroxide/water mix to clean mirrors for less smearing and streaking.
Spray it on the toilet and the toilet seat to kill germs.
Make a 50/50 spray bottle for the kitchen. Spray it on countertops and other surfaces to disinfect or pour a little on your dishrag when you wipe.
After rinsing off your wooden or plastic cutting board, spray peroxide on it to kill salmonella and other bacteria.
Spray fruit and vegetables to kill e-coli and other bacteria.
It's great to use with children. Spray it on their toys and surfaces they contact as a disinfectant. It works like bleach without the toxic fumes.
Put half a bottle of peroxide in your bath to help rid boils, fungus, or other skin infections.
Add a cup of peroxide instead of bleach to a load of whites in your laundry to whiten and disinfect them.
If there is blood on white clothing (use with caution on colored fabric, since it does whiten like bleach), pour it directly on the soiled spot. Let it sit for a minute, then rub it and rinse with cold water. Repeat if necessary.
It's a little brown bottle no home should be without! With prices of most necessities rising, here's a way to save tons of money in such a simple, healthy manner!