8 Cups of Pure Water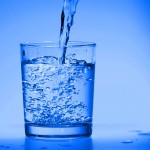 Nothing is as healthy as drinking your eight cups of pure water every day.  It is absolutely necessary to qualify drinking water as pure.  Over half of the world population doesn't have access to it.  The remainder of us who do may not be aware of the toxic chemicals and prescription drugs that are laced into the tap water from our municipal water supplies.  Today, over 80% of our city water supply comes from sewage treatment facilities that have limited ability to filter out potentially harmful chemicals.
Before you fill up your glass at the tap, consider what could be lurking in that refreshing drink. Have these common contaminants made their way into your water supply?
Chlorine
Chlorine is deliberately added to municipal water supplies to kill bacteria and disinfect the water you drink on a daily basis. While the addition of chlorine is a convenient way to ensure cleaner water, there may be a downside. When chlorine reacts with other elements within tap water, it can form trihalomethanes (TMHs), toxins that may negatively impact health. Carbon-based filters can help remove TMHs and excess chlorine from drinking water.
Lead
Did you know that roughly 15% of lead exposure in the U.S. occurs from consuming tap water? Lead typically gets into the water supply via aging pipes within the house or in the neighborhood. Because it is colorless, odorless and tasteless, the only way to detect lead in drinking water is to test for it. If lead is leeching into your water from pipes inside your house, the Centers for Disease Control recommends running your tap on cold for several minutes before using the water for drinking or cooking, or using a water filtration or purification system that is certified to remove lead.
Giardia and Cryptosporidium
These microscopic parasites come from animal feces and can make their way into the water supply through runoff or sewage contamination. Although the intensive water treatment process removes most of these microorganisms, there is a small possibility that they may occasionally be present in tap water. Certain filters are certified to remove protozoan cysts such as giardia and cryptosporidium.
Arsenic
This potentially poisonous element makes its way into the water supply from natural deposits or through agricultural or industrial waste and pollution. According to the NRDC, as many as 56 million Americans may be drinking water with higher than acceptable levels of arsenic.  Water filtration and distillation systems can reduce or eliminate the amount of arsenic in your tap water.
Are you thinking that bottled water is a better alternative? Think again. Although some may come from natural springs, the majority of bottled water is simply re-packaged tap water. Regardless of the source, however, bottled water is not subjected to the same stringent testing as tap water.
If you want to find out exactly what's in your tap water, request a copy of your city or county's water quality report where you pay your water bill.
Clean water is critically important for many activities in everyday life, including drinking, cooking and bathing. So, if you want to assure that you and your family are getting pure water, go fill your own jugs from a local purified water source.  They have multi-stage micro-filtration plus disease-killing methods such as silver, ozone and ultra-violet treatments that knock out 99.9999% of disease-causing particles . . . all for about $.25 – $.50/gallon.
Consider using a water purification or filtration system to ensure you and your family are getting clean, safe and fresh water that's free of chlorine, lead, parasites and other questionable contaminants. Do some research on getting a home system. This reduces your pure water cost to just pennies per gallon. Your local hardware store is a great place to start.
On a larger scale, the only real solution for pure water is desalination of ocean water.  This has been an expensive process, but recent breakthroughs are giving us hope that we can recover ocean water for about the same cost as pulling it from wells.  Many areas are discovering that when we are talking about millions of gallons per day, well water can deplete a groundwater source over several decades. More about this in the section 'Water for the Nations.'
Remember . . . There is as much water on the planet as there has ever been. It is a truly renewable resource.