Posted by
traveler
in
Agriculture
,
Business
,
Energy
,
Environment
,
Gardening
,
General
,
Health
,
Posts
,
Sustainable
,
Technology
,
Thriving Communities
, tags:
Agriculture
,
business
,
community
,
Energy
,
environment
,
leadership
,
life
,
organic
,
responsible
,
Sustainable
,
Technology
,
water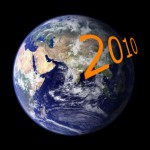 2010 was heralded by the Environmental Protection Agency to be the year for clean air and water standards to reach a near-perfect status. '2010 – A Space Odyssey' ['Odyssey Two' MGM-1984], portrayed a joint US-Russian space mission that miraculously ended the US-Soviet cold war in 2010. In reality, only 7 years after the movie's release, 1991 marked the actual collapse of the Soviet Union, ending the cold war era. According to George Orwell, 1984 was an extremely troubled time depicted by the novelist [in 1949] as a world submerged in a totalitarian police state.
What do we learn from these historical perspectives? We can conclude that it is difficult at best to predict how history will play out. We can also conclude that people can alter historical outcomes when sufficiently educated and motivated. Earth's environment has a long way to go to reach a perfect status. People are more environmentally conscious today. Industry has made environmental progress. The world, for the most part, is far from becoming a police state.
What it does reveal is that history, though unpredictable, can be affected by informed, determined individuals. These individuals, fueled by an unquenchable passion, will assume the leadership to enjoy sustainable life in the arenas of energy, business, agriculture, health, the environment and personal development.
Technology advances at a rate that is parallel to its demand. Organic gardening and farming practices will flourish in tandem with a demand for fresher, more nutritious organic produce. Fish farming will expand, coupled with growing concerns about toxicity levels in seafood from oceans. Organic livestock production will increase as more health concerns emerge because of animals raised with growth hormones. Renewable energy sources will blossom in every community as individuals realize the benefits of clean, affordable and sustainable power.
2010 will be the year that passionate people like you and me make the responsible decision to become involved and make a difference in the status of our local communities and the world we live in. Don't be jaded into thinking that things are just going to happen with or without you and that you can't make a difference. It doesn't really matter whether your leadership affects only 2 other people or 2 billion. You will make a difference if you decide to do it.
47 Comments »