Posted by
traveler
in
Agriculture
,
Business
,
Energy
,
Environment
,
Gardening
,
General
,
Health
,
Posts
,
Sustainable
,
Technology
,
Thriving Communities
, tags:
alternative
,
benefit
,
biodegradable
,
business
,
catalyst
,
chemical
,
clean
,
community
,
concentrate
,
consumer
,
corporate
,
correction
,
creative
,
development
,
dream
,
economy
,
Energy
,
environment
,
exercise
,
exponential
,
financial
,
future
,
garden
,
green
,
grow
,
initiative
,
innovative
,
irreversible
,
leadership
,
life
,
lifestyle
,
management
,
markets
,
modifier
,
momentum
,
natural
,
paradigm
,
passion
,
productivity
,
recession
,
remediation
,
renewable
,
responsible
,
rubicon
,
society
,
Sustainable
,
Technology
,
trade show
,
workforce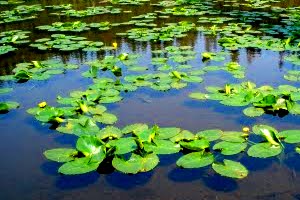 Lily pads multiply exponentially. They begin growing in the spring with very sparse coverage and by late summer they can look like this. One day you could come to the pond and where you saw gaps yesterday, the whole pond is covered today.
The recession has made living a greener life more fashionable. People are cutting back on driving, exercising more, eating healthier and even taking up gardening to save money –- or just to be current. Making that a more enduring lifestyle is easier than changing the marketplace, but only because of individual initiative. The energy of that initiative could just be the catalyst that propels us into a greener society.
We may be on the cusp of a real paradigm shift that will take us back to organic healthy practices, lift us up to be more responsible citizens and launch us into the creativity of more efficient, greener products that advance us to greater heights of achievement and quality of life.
At the moment less than 20% of our Fortune 500 corporations have really made green strides, even though all companies have at least dabbled in green or have fulfilled the required greener compliance adjustments. What we are beginning to discover, however, is that there is a fresh approach to the marketplace. A common awareness of the problems associated with a non-green mindset and the possibilities that greener products and practices provide is becoming the correctional modifier that engenders spontaneous collaboration of management, workforce and consumers to set new standards and, simultaneously, create real growth in the economy. It would not be the first time that remediation measures resulted in a pressure cooker environment that re-invigorates a fresh approach to a quagmire of repetitious activity and gives birth to a sustained renewal.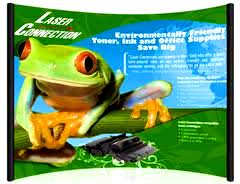 Trade shows are mushrooming with green ideas that have been turned into green products and innovative solutions. If you haven't been to one recently, take my suggestion to attend and make a mental note of all the innovative ideas that are being brought into the marketplace. Yes, there's much work yet to be done, especially in the US. The average American still consumes twice as much fuel each year as the average European. We're pretty spoiled. We have large houses and several cars and we use them to make lots of trips to buy any little thing and shop for the next thing that catches our eye.
Not that those things are so bad, but if we could convert some of that energy into personal productivity and consciously seek ways to green up, we could absolutely regain what has been lost in our economy. At the same time we would live longer, healthier, happier lives. What we would find is a new passion for living emerging from within. Creative juices would begin to surprise us with new ideas and innovations. Sensitivity for the burdens of others would cause us to make a real difference in our home, our workplace and our community.
Even now, this can be witnessed to some degree in corporate America. More companies are working on sustainability standards for their own company and then assuming the leadership to show their suppliers how to make greener products, biodegradable packaging, greener, less toxic chemicals and other areas that are still being defined.
A good illustration of this is triple-concentrated laundry detergent. It does a better job cleaning, costs less and is chemically less toxic to the environment than the product it replaced. On the shelf it might look like it costs more, but if you do the math you will see the savings.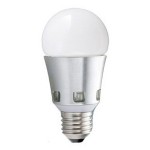 Green advancements in lighting is another area where leaps are taking place. LED's (light emitting diodes) are super-efficient bulbs that use 10 to 30 times less energy than incandescent bulbs. They may seem a bit pricey, but they last for 35,000 hours –- at 3 hours a day average, that's over 25 years. Incandescent bulbs last only about 1,000 hours. Even if you were to spend $20 for one of these 6-watt bulbs (equivalent of a 60-watt incandescent bulb), you are saving money in just a very short time.
That, my friend, is crossing the rubicon of irreversible green momentum. One green idea sparks another and one day, when you least expect it, economic and environmental recovery becomes a reality.
26 Comments »