China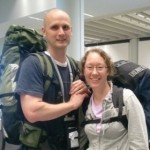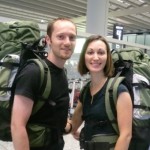 July 2009 – Loaded with hiking gear and broad smiles, our friends Mike & Melysa Moran and Matt & Laura Daniels spent two weeks trekking through China. Awed by the natural beauty and captivated by the ornate culture of the Chinese, the foursome explored unfamiliar sights, tastes and aromas unique to this ancient land that, because of sheer population mass, is moving slowly yet steadily toward integration into the 21st century.
Notice their expressions as they experience real Chinese tea: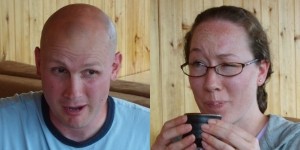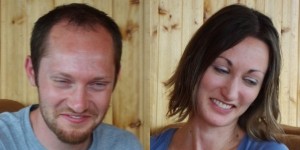 As they went from city to village to open farmland, they were constantly amazed by the creativity and resourceful implementation of centuries-old technologies. Inventions handed down through the generations have assisted these people in adapting to the challenges both natural and cultural. Many of these inventions have the advantage of homemade construction in order to be affordable and manageable.
Waterwheels powered by renewable green energy in the form of gently flowing waterbrooks provide motor power for grinding grain and other necessary tasks. Waterwheels, like the ones shown here, could also be used for running small generators to make electricity for villages and rural industries. Other kinds of micro power plants, installed in the local areas where they are needed, utilizing solar, wind or moving water can bridge the gap in those remote areas producing green energy to expand projects and alleviate the energy deficit in short order.
80% of China's electricity is generated by coal-fired electric plants. The world's most populous nation is moving toward renewable energy sources. This is the world's largest hydroelectric plant at Three Gorges. It is in operation now and will be totally finished in 2011. At that time it will have the capacity to produce 22,500 megawatts of power. Even with this massive plant, industrial, commercial and even agricultural expansion will require additional alternative energy sources to meet the electrical requirements of the coming decades.
Bicycles [and tricycles] enable farmers to multiply their capacity for performing necessary jobs and get produce to market. Natural fertilizer from barnyard manure, as shown here, enriches the soil for increased production and doesn't stress the soil like chemical fertilizers do. Not only does the trike increase a farmer's work potential, but it doesn't pollute or use petroleum fuels. In this case the green energy is human legwork and the carbon dioxide emitted by the farmer is miniscule when you compare it to tractors and trucks.
Wind energy is becoming a big focus in China. This wind farm in Xinjiang is currently one of the major installations. Commitments are now being made to continue production of wind turbines to generate electric power in order to achieve the goal of meeting total electrification needs of the nation by 2030. Wind is a major component of these plans and there is ample land available for several additional huge installations. Not only will wind energy fill the gap to complete the demand for electric consumption, but it will meet that demand without the escalation of carbon based fuels, such as coal-fired power plants.
Although not to the extent of wind energy, PV solar energy is playing a role in China's clean power strategy. Industrialization has brought with it heavy environmental concerns, but with power plants like this one these concerns can be greatly reduced. In areas where wind turbines could be an aesthetic issue or where wind speeds are low, PV solar can bridge the need for renewable electric power in the most populated nation on earth. As the need for PV solar increases, new construction methods and new materials make PV solar a more affordable alternative.
Solar energy does a fabulous job of making hot water. Here is a wonderful picture of what can be done to provide hot water for only the cost of the equipment. The tilted panels you see here are solar collectors that can heat water nearly to the boiling point during daylight hours. The tanks and the supply lines are insulated to retain heat during the night. Hot water made in this creative manner is no longer a luxury, and this is an excellent example of the comforts of home on a budget. There are now more than 30 million homes in China with passive solar hot water.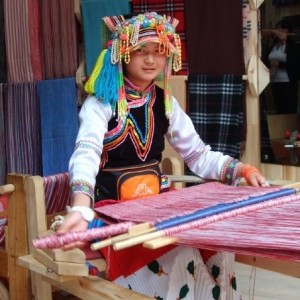 "A thing of beauty is a joy forever." The shuttles that create the rich designs in the fabrics this young lady is weaving are totally green energy…again human-powered. Fabric mills that use megawatts of electricity can produce thousands of times what she can make, but her creativity and energy provide a living for her and her family. As you can see by her colorful regional dress and hat, she occupies an honorable and distinguished place in her community.
China has made incredible strides in becoming a major producer of durable goods. Michael, Melysa, Matt and Laura also say that the old world charm and beauty of this gentle giant is still intact.