Malawi
Here is an example of a 14-year-old who saw renewable energy in a book from the library and would not be denied: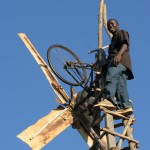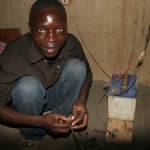 This young man William Kamkwamba in Wimbe, Malawi has found his own way of harvesting electric power from the wind.  He can run lights and small appliances with his apparatus.  Even though his wind turbine is fragile, it accomplishes his goal of having a home-built wind power system.
Actually, what he did and the book he wrote about it has gained worldwide attention.  Not content with just a small measure of success, he is moving on to greater achievements.  Read more about William on his website.