Water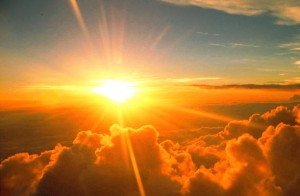 Studies have shown that there will be a major global shortage of our potable (drinking) water within the next 20 to 50 years. Ground water aquifers are drying up because water wells have been pumping to the surface more water than seasonal rain cycles are able to replenish. The solution I see for the world's need for water is the sun. Yes, the sun! By the time I have finished explaining my plan, I think you will agree that this method has its merits. There are other methods to be used, for certain, but I favor this one, primarily because of its high energy efficiency, zero carbon impact, minimal heat radiation and recyclable nature.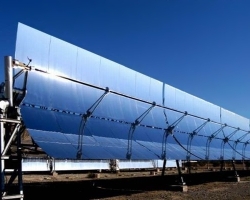 It has been more than adequately demonstrated that the sun's energy can be used to create electricity with photovoltaic [PV] panels. It has also been demonstrated that the sun's energy can be concentrated on curved mirrors to generate super thermal steam to run a steam turbine for clean green electric energy production. Concentrated Solar is a rarely utilized but very powerful technology that concentrates the sun's rays onto a pipe filled with mineral oil or other viscous liquid that gets super heated to above 600ºF [315ºC]. That heat is then used to create a phenomenal amount of steam.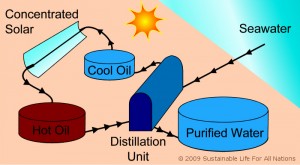 What I propose is using concentrated solar energy to turn seawater into steam to desalinate an endless supply of water. By implementing this evaporative distillation process, we can begin to address the worldwide need for potable water.
A more advanced system can be installed at the same location, which will provide both fresh water and electricity. The illustration shown below uses molten salts as the heat energy storage material. Salts retain heat longer and can be heated to higher temperatures without degradation. This makes it possible to use the stored heat energy far into the night hours, sometimes completely through the night into the next day. Another plus for using certain salts is that in the event of a leak, they would pose no environmental contamination and would even enrich the soil.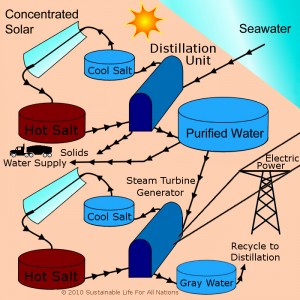 There are currently electric power generation plants using this type of technology. What I am proposing simply adds the evaporative distillation process for water purification to make the process more complete.
If this system makes sense to you, please help me promote the technology because it can make a life or death difference in many areas of the world. My desire is to collaborate with those who already have similar technologies and to encourage continued research and installation projects in strategic locations.
There are several advantages to this plan . . .
The primary advantage is that this method utilizes two renewable resources – solar energy and water.
It gives sustainable life to its recipients and is available indefinitely.
The energy cost is virtually zero.
The best locations for these types of installations are oceanfront properties in arid climates that are currently not usable for anything else. They can even be located some distance from the ocean with seawater piped to the project site.
Some of the water provided by such projects can be used to recover severely degraded soil and turn it into productive agriculture.
A percentage of the water generated by such projects can be used to support the growth of communities in previously uninhabitable areas.
A portion of the water can be used to revitalize areas of drought and water shortages.
Though it takes energy to pump water to these remote locations, renewable energy can be utilized in those areas to power the pumping stations necessary for water distribution.
The sea salt solids produced by such projects is a bonus product which can be sold to defray a portion of the cost of such projects.
There are trace minerals or micronutrients in seawater which can be used for soil enrichment and for dietary mineral supplements.
These projects are extremely efficient with practically 100% usage of the seawater. As the water is used, it evaporates and is eventually recycled into the oceans from which it was drawn.
Is there any way you would like to be involved in projects like these? Please send me a comment.